Cerebral Palsy Scotland volunteer Bernie Hunter interviews Eilidh Elizabeth Molly McGrath about society's attitudes to disability and her passion for dance.
In recent weeks, I interviewed a young lady called Eilidh. Our paths have crossed as we both are part of a music and dance organisation – Paragon Music. I was really interested to find out more about Eilidh, her disability and challenges.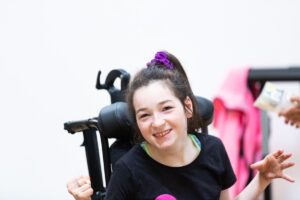 Eilidh has cerebral palsy which affects her mobility and speech. She has a number of different ways to communicate with people including using her own voice to say a couple of words, iPad technology, a laminated sheet with letters on it to enable her to spell out the word using her eyes, BSL and homemade sign language that her and her mum created. Eilidh uses a manual wheelchair to get about, she is able to self-propel for a short distance but as her right hand is slightly weaker than the left, she requires assistance to get about when outside.
I wanted to hear Eilidh's thoughts on how society acts around disability- she explains that she feels that a lot of strangers still talk to her like she is a 2-year-old which is totally wrong. On the plus side, Eilidh does notice people speaking to her in a normal way and that is a big win. Another point that Eilidh made is that she finds young children staring at her and wants parents/guardians to seriously educate their kids about how to be when they see someone with a disability, and social skills come into this too.
As I said at the start of this blog, Eilidh attends a music and dance organisation. Paragon aims to make the arts accessible for everyone. 6 years ago, Eilidh came across the organisation- it was the Paragon M3 week at the Tramway, in Glasgow. The summer programme aims to reach out to young people who have additional support needs for the opportunity to learn music and dance. As soon as Eilidh got started at M3, she caught the dance bug and fell in love with the arts.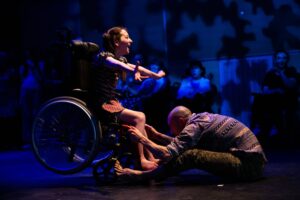 Having discovered a real passion for dance, Eilidh wanted to study Higher Dance at school. In 2019, she contacted the SQA (Scottish Qualifications Authority) to ask how she could do the course as she has cerebral palsy. They requested Eilidh to send in a video of her dancing and that is exactly what was done. Unfairly, from the video alone the SQA decided that Eilidh would never pass the dance course and the reason was that they couldn't mark her posture, musically or focus. Eilidh was really upset about this, the fact that they never even gave her the chance to try the course.
Eilidh is an intelligent woman that doesn't let her disability hold her back in life. She has many skills including speaking in different languages and enjoys dancing with Paragon. Dance was the main activity that Eilidh missed during the Covid-19 lockdown, it was a long 18 months but thankfully the M3 programme was able to continue online. But this way of working came with challenges too. Eilidh had to work with one of the Paragon mentors so they could assist her to communicate, as using an iPad wasn't always possible when Eilidh was dancing.
Thank you to Eilidh for participating in this blog, I will leave you with this quote from the lady herself – "I may not go places on foot but that doesn't mean I don't go places!"