Cerebral Palsy Scotland has published a round-up of how we have supported people with CP and their families over the past year and a half.
Our latest Annual Review sets out what the charity has achieved between April 2019-March 2020. We have also included a section on how we have helped people over the coronavirus pandemic.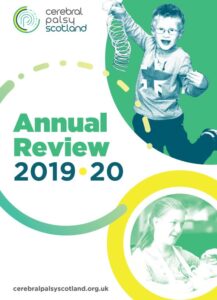 Between April 2019 – March 2020 we provided a total of 990 individual therapy sessions for children and adults with cerebral palsy, supporting people to build skills, confidence and knowledge of their condition. We ran therapy-led groups for people of all ages, hosted a national conference and trained health professionals.
We also continued our work looking at the state of mental health support for people with cerebral palsy and how we can use Clinical Psychology to enhance our own services.
Most visibly, in April 2020, Bobath Scotland changed name to Cerebral Palsy Scotland.
The arrival of coronavirus and national restrictions has led to big changes for the charity, but we are determined to keep supporting the CP community during these strange times. We are providing online information and videos, virtual therapy sessions, and have created a safe environment to allow us to provide hands-on therapy sessions.
Commenting on the publication of the Annual Review, Stephanie Fraser, CEO of Cerebral Palsy Scotland said:
"I am really proud that Cerebral Palsy Scotland has achieved so much over the past 18 months and helped hundreds of people with CP build skills, knowledge and confidence. Rebranding the charity has been a big step forward in raising the charity's profile so that we can support even more people with cerebral palsy across the country in the future.
"As always, I want to extend my sincere thanks to the CP community, donors and funders for their continued support as we work harder than ever before to provide services for children and adults with CP."