This week, blogger Bernie Hunter shares her experiences of learning to dance, the adventures it has taken her on, and what happened next.
Dance was a big part of my teenage years – not many people know this so let me take you into my dance world. In this blog, I will give you an insight into my performance days including sharing my experiences of rehearsals and shows.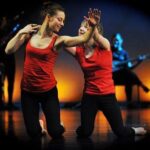 In 2009, I came across a music and dance workshop that was taking place at a local theatre. It was during the summer holidays so I was up for trying something new even although I hadn't danced before. The group was called 'Make Music Move' (now M3) involving professional dancers and musicians from the organisation Paragon Music. Paragon, is a music charity that helps people with additional support needs to create music and dance. They teamed up with a wonderful choreographer, Caroline Bowditch as well as another dance company to create M3.
Everyone was welcomed into the workshop, it was very inclusive- the group didn't see disability and as a teenager, that really helped me.
I watched how the dancers worked with the participants and that was when I realised that this was something special. After a couple of sessions, I started to take a real interest in dance. I attended M3 as a participant dancer for 5 years- I had many opportunities handed to me on a plate that I will always be thankful for.
M3 ran regularly with rehearsals happening throughout the year plus intensive weeks every so often, this was when we were creating a piece. We had a number of performances to do as part of dance shows in theatres. This is where the opportunities came in – I got to perform in the Theatre Royal, Glasgow…what a feeling and I also travelled to Dundee Rep Theatre annually too. That doesn't happen to people like me and I don't mean because of my disability, just in general.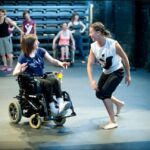 My theatre memories will always be a big part of my dance days, the experience is just phenomenal. A real mix of feelings when you are out on that stage of excitement but lots of nerves too. One memory that comes to mind is when I was doing a solo dance and an hour before the show in Dundee, I found out that not only that I was the first member of M3 on stage but I was opening the WHOLE dance show…total fear waiting side of stage but such a joy to do.
Talking of my solo dance piece, I actually created it myself in my living room. I went into rehearsals the next day and told my dancers that I made a dance…they couldn't believe it and I was so thankful that it made the stage. I was told by Caroline that I could go down the dance route as a future and that meant so much to me.
I never thought that I would be a dancer due to having Cerebral Palsy with my movements and being in a wheelchair but anything is possible.
The professional dancers were very good with me, we worked together and came up with moves that I could do in my chair. A couple of years into my dance journey, I decided that I wanted to come out of my wheelchair to dance duets…it was the best decision ever. I could do so much more…it was freedom. My fellow M3 participants followed me and at one point, everyone was dancing out of their chairs!
As I got older and life got busier, I had to leave M3. Unfortunately, I couldn't attend all the rehearsals. Although that this was the case, I helped Paragon Music run M3's social media accounts which then leaded to me being a volunteer with Paragon- I am the charity's Digital Development Assistant now.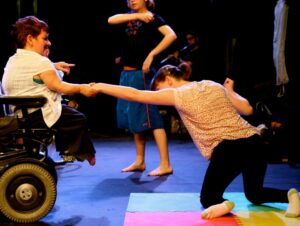 I would like to give a big shout-out and thanks to Paragon's creative director, Ninian Perry and former dance artist in Association with Paragon, Caroline Bowditch for supporting me through my dance journey- I really learnt a lot from two of the nicest people ever. All of the dancers and musicians were like a big family and I am so lucky that I still keep in touch with friends from M3- I will always be grateful for my dance days.
Mini Q&A
Favourite Memory – Performing in the Kings Theatre Royal to 'Let music make you move, set your feelings free'
Most Pressured Show – Leading a dance piece at Macrobert Art Centre, Stirling. 8 beats!! If I counted it wrong then it would have affected our whole piece
Do I miss dancing? – Yeah, I do and I would go back if there was an opportunity
Favourite Venue – Kings Theatre Royal