Jamie:
My name is Jamie and I'm 24. I live in my own flat, but because of Covid restrictions I couldn't go out and do things that I normally did, so it was very challenging for me. It was not good for my body and my mind. I found out about Cerebral Palsy Scotland through my mum. I wanted to find out what better exercises I can do to make me fitter and stronger. I also wanted to try and play Boccia again. I used to play it a lot and I got fed up with it because I couldn't get my arm working and I was slipping down my chair. I went to some CP Connect sessions. I worked on exercises. That was good fun, just seeing what you guys can help me with and what I can do in terms of exercising.
Jane: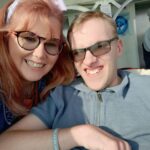 Jamie wanted us to support him with exercising. I have never worked with anyone with cerebral palsy, so there was a worry in the back of the mind that I could hurt Jamie or push him too hard. Lesley, the Cerebral Palsy Scotland physiotherapist, gave the staff ideas on different games – things
that are fun for all of us and not only Jamie. The exercises were things that we could easily incorporate at home, for example using a broom handle with Jamie to stretch his arms. Lesley showed us how to use things that were inexpensive or that we already had to help Jamie with his exercises, which I thought was really good. Now I know from speaking to Lesley what he can and can't do, and I know the best ways for Jamie to exercise, to move his arms and to build up his strength. So now I can come up with ideas for exercises that me and Jamie can do together which is good.
Jamie:
Lesley also helped me with my wheelchair. I wanted to make it more comfortable for me, and Lesley contacted the wheelchair support service and worked with them on that, so that was very good. I would recommend Cerebral Palsy Scotland to any person that is struggling with cerebral palsy and anyone who wants to get fitter and stronger. I would definitely recommend it as it is very interesting and it lets you know better ways that you can do your exercises.