Meet Kirsty: Music
Kirsty tells us all about her love of music and how she's overcome obstacles to pursue her passion!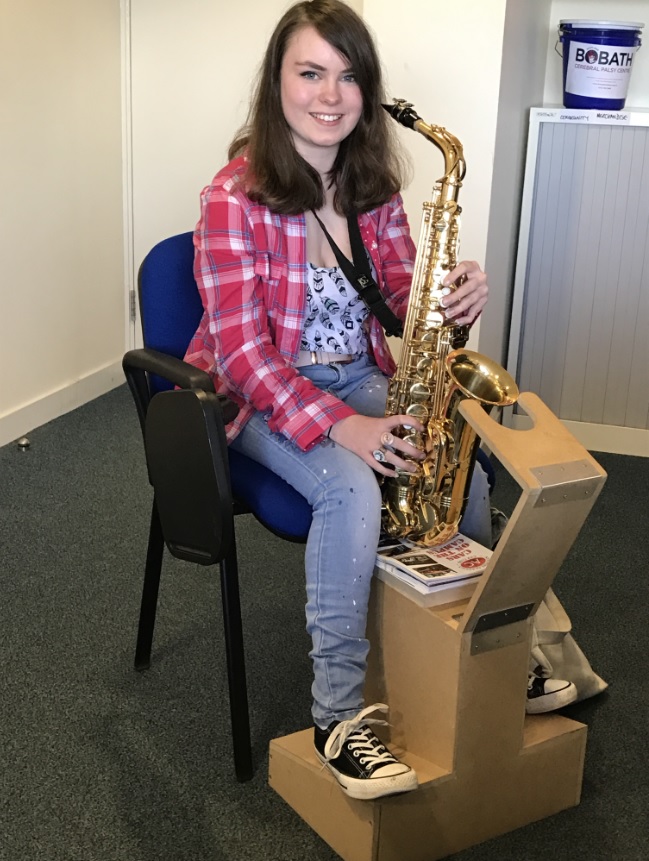 I have always loved music. This is probably because my Dad was in a band in his early twenties, and still plays his guitar every day. I grew up in a musical household, which inspired me to become a musician. When I was about ten, my Dad bought me a guitar. However, I found it very difficult to play and gave up almost as soon as I started. In Primary six, a woodwind teacher came into our school asking if anyone wanted to be a musician. I was one of the first people to show up to auditions; in which Doctor Harris would put pupils through a gruelling test, which assessed our ability to recognise rhythm, pitch, and above all, how well we could breathe! We were allowed to try out the mouthpieces of the flute, clarinet and saxophone, and then we were told what instrument was best suited to us. I desperately wanted to play the sax, as my Grandfather played for most of his life, and was part of a successful jazz band. Doctor Harris was very perceptive; she took my Cerebral Palsy into consideration and worked out which instrument would be easiest, and best, for me to play. Thinking back, she could've easily dismissed me because of my disability – as the music industry is a scrupulous place, full of perfectionists. However, her kindness and understanding on that day meant that I had the opportunity to be seen as something other than just someone with a disability.
We realised quickly that holding the saxophone would be difficult for me, as it is very heavy (about the same weight as a bowling ball). The saxophone is meant to be held to the side, having only the sling (a strap around the neck which is hooked onto the sax) for support. We solved this issue by placing two pillows between my legs in order to hold the weight of my saxophone, after that, everything went swimmingly.
High School was the first opportunity I had to be part of an actual music class. In first and second year, we were given the chance to try out guitar, glockenspiel, keyboard and drums. I had a go at all of these, keenly, as I saw no reason why I couldn't. The teachers, again, were so considerate, and were always eager to help me gain these experiences – so I never felt like I was missing out on anything. It was at this time, also, that my tech teacher offered to make me a wooden stand for my saxophone, instead of the unaesthetically pleasing pillows. This was a great help and made it easier to play the instrument that I loved.
Going into third year, we were to pick two instruments to focus on leading up to our National 5 exams in fourth year. I knew I wanted to continue sax, and I chose to learn keyboard (which was a popular instrument amongst my classmates). Not being one to follow the crowd, I asked my mum if I could start piano lessons. She agreed and told me that our neighbour, Lauren, was a piano teacher, so I began my lessons with her at the end of third year.
Lauren was also an incredibly kind person. She knew that my hands were quite tight due to my CP and that my fingers tended to lock sometimes, so she searched for pieces that not only would I love playing, but that were the easiest for me to learn to play (she always likes to challenge me and doesn't treat me any differently to her other pupils!). Even though my actual music teacher felt there was no way I would pass my exam in the time I had (eight months) I passed with an A! My teacher was shocked as she told me that it normally takes at least two years for someone to just pass Grade 4 piano, never mind with an A!
Last August I joined the South Lanarkshire Orchestral Society intermediate band. In order to get in, you have to audition, but it turned out that the conductor of the band was actually the woman who had examined me for my Grade 4 – so no audition needed! Since I have been there I have performed two concerts with the band, both at the Hamilton Townhouse. My fellow bandmates are so helpful and always make sure that I have everything I need before we play. Playing in a band makes me forget that I am any different to anyone else as I am focusing on my ability as a musician, and performer, and nothing else.
I am so grateful for all of the teachers and fellow musicians who believed in me in order to get me to where I am now. I love being able to play my saxophone, and, through being a musician, I have learned what it is like to be treated equally to abled people, not patronised or looked down upon. I have worked and been taught by people who see me for my ability rather than my disability and that are not afraid to tell it like it is! I am proud to say that I am both disabled and a musician, and that those two things can coincide if you put your mind to it. It really is true that you can be anything you want to be!