Ann McIntyre's son, Ewen, is 61 and has athetoid cerebral palsy. He lives at Capability Scotland's Upper Springlands centre in Perth.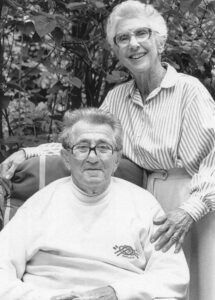 Ewen and Ann have had a long association with Cerebral Palsy Scotland, and with Dr. Karel and Mrs. Berta Bobath, the originators of the Bobath concept of therapy we practise at the centre. Ewen was first treated by Berta Bobath as a baby in the 1960s in London.
Below, Ann writes about a few of her memories of the Bobaths, and of how important this therapy has been for Ewen throughout his life.
"Our family's first meeting was in August 1962 with Dr. and Mrs. Bobath in London when our son, Ewen had been diagnosed with cerebral palsy when he was just one year old.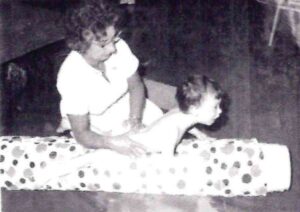 "The following summer Ewen began benefitting from an annual series of treatments with Mrs. Bobath herself at their centre in London during 1963-1980, which coincided with our annual visits to the UK. At that time we lived in California, but in 1989 the three of us returned to live in our native Scotland so that Ewen could come to live at Capability Scotland's Upper Springland centre.
"I remember another contact with the creative and delightfully outgoing Bobaths that was in approximately 1978.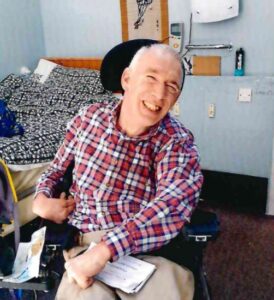 "Mrs. Bobath was invited to lecture in Los Angeles on her unique method of treatment for people with cerebral palsy, so we were fortunate to have the charming couple stay over a weekend in our California home. Indeed, our son Ewen was on stage at the lecture hall with Mrs. Bobath for a short part of that important lecture, so she could demonstrate her treatment approach!
"Ewen has worked regularly with the therapists at Cerebral Palsy Scotland and we are very grateful that the charity is such a valuable and appreciated aid to people who have cerebral palsy. What an important gift this is."