Lockdown, shielding and restrictions have had a major impact on people with CP and their families. Many people are feeling isolated and their physical and mental health have been affected because of disruption to the support and services they would normally get.
Cerebral Palsy Scotland has received more than £6000 from two funders that is helping to provide support and therapy for people with CP and their families during the coronavirus pandemic.
We are delighted that Foundation Scotland's Response, Recovery and Resilience Fund has given Cerebral Palsy Scotland a grant of £5000. Foundation Scotland are official Scottish partners of the National Emergencies Trust, which launched a UK-wide fundraising appeal in partnership with the British Red Cross to support local charities. Together with other funders, this money is helping to provide tailored "Post Lockdown Flexible Support Sessions" for people with CP.
These sessions are free of charge and available now. Open to children and adults, if there's something in your life that isn't going as well as it was before, you'd like some advice about activities or equipment, or you've noticed a change in your health, please get in touch.
These sessions can be done in-person or virtually – whatever suits you best.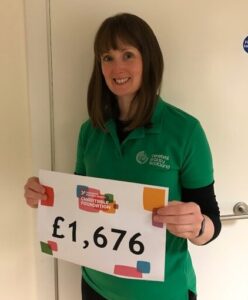 And to help us deliver virtual therapy sessions, Yorkshire Building Society have given us £1676 to purchase two new laptops. Being able to buy new computer equipment has been vital in allowing our therapists to provide high-quality, specialist therapy digitally to people right across Scotland.
Thank you to Foundation Scotland and Yorkshire Building Society for helping us to continue supporting the CP community in these challenging times!