Volunteers' Week runs every year between 1-7 June. It's a time to recognise and thank volunteers for all they contribute to the voluntary and wider sectors, communities, and society as a whole.
Here's one of our volunteers, Bernie Hunter, explaining why she volunteers for us at Cerebral Palsy Scotland.
"I started volunteering for Cerebral Palsy Scotland in 2017 but 22 years earlier in 1995, I was actually one of the first babies to attend Cerebral Palsy Scotland for therapy as I have CP so I have known about the charity for all my life.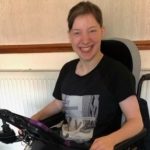 "In my younger years, the charity really supported me so when I got older – I wanted to give something back.
"Pre-pandemic, I was in the centre every week at Cerebral Palsy Scotland. I enjoyed being in an office environment and having face-to-face communication with the fundraising team. Sometimes I would help out at bucket collections plus doing my own fundraising events for Cerebral Palsy Scotland.
"Like everyone else, I had to find a new way of working when Covid hit but I'm glad to say that it hasn't stopped me from volunteering.
"I write blogs about everything relating to Cerebral Palsy, design images & videos for social media, fundraise, look for articles about CP and have recently started to interview other people who live with CP – giving them opportunities to share their experiences.
"It is a joy to volunteer for Cerebral Palsy Scotland – very rewarding. This is much more than volunteering to me."