We are really pleased to announce that Cerebral Palsy Scotland has been selected by Global's Make Some Noise as one of the small charities they will be supporting this year through their Make Some Noise Day on Friday 8 October.
Global runs some of the best known radio stations in the UK, including Heart, Capital and Smooth.
Every year, the stations come together to raise money for small charities across the country through their Make Some Noise appeal day.
Between Monday 4 – Friday 8 October, Heart and Capital presenters will be raising money and awareness to support the work of Cerebral Palsy Scotland and all this year's chosen charities – so please listen in and support us if you can.
Listen out for us on the radio!
Heart Breakfast with Jamie and Amanda: 4 October
Heart Breakfast presenters Jamie Theakston and Amanda Holden will be broadcasting live from Glasgow on Monday 4 October. They will be chatting with our CEO Stephanie Fraser about our work sometime between 08.15-09.00.
Stephanie will be joined by Francesca, whose son Daniel (pictured below) regularly comes to Cerebral Palsy Scotland. Francesca will be speaking about how Daniel benefits from the specialist therapy he gets here.
On the show, Amanda and Jamie will also be giving listeners the chance to win one of five cars to raise money for Global's Make Some Noise – you can enter the competition and donate here.
Heart Drivetime and Capital
Listen out next week for Stephanie and Francesca on the Heart Drivetime show with Des Clarke and Jennifer Reoch, and on Capital too. To find out when we're on, keep an eye on our social media channels (links below) for details.
Supporting babies and their families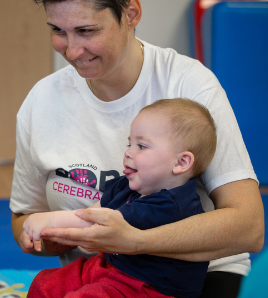 Money raised by listeners to Global's Make Some Noise appeal will be going to support our work with babies and their families in 2022.
Providing early therapy intervention to young children with cerebral palsy is so important in supporting their motor development and communication.
In 2018, Cerebral Palsy Scotland started a fortnightly baby group, bringing babies and their families together with our team of specialist Bobath therapists in relaxed, fun sessions.
Our baby group is not running at the moment due to Covid restrictions on group activities and social distancing regulations, but we will get the group started again as soon as we can.
In the meantime our therapists are still seeing children aged 0-2 individually. For more information on how your baby can be seen by our therapy team, please contact us.