What is it? How can you make your mark?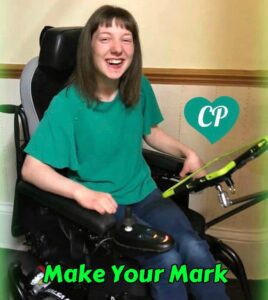 October is usually the month of Halloween, but did you know that there is a very important day before it? Yes, that's right – it is World Cerebral Palsy Day on the 6th! The special day is to raise awareness about the disability which affects 17 million people, around the world. There are many ways that you can show your support for World CP Day.
We all know that the world is a very different place this year due to the pandemic but we can still support Cerebral Palsy, in our own way. World CP Day is a great opportunity to tell people what the disability means and to make people aware that CP doesn't stop anyone from achieving amazing things in life. The campaign for this year's event is called 'Make Your Mark' which encourages people to share their achievements and experiences of living with CP.
There are many different ways that you can Make Your Mark:
Share your story of CP by going to the 'World CP Day' website and adding your story to the map
Share an achievement you have accomplished- old or new
Going green for CP by wearing the colour green or decorating your home in green as part of the #GoGreen4CP campaign which we have seen, in recent years
A big part of World Cerebral Palsy Day aims to make sure that everyone has easy access to support services, this is extra important this year. "To mark this day in support of Cerebral Palsy, I will be making my mark by creating a video to share my story of living with CP which will be posted on social media. I want to get the word out there that having CP, doesn't stop me from doing what I want to do, yes life can be challenging but I always find a way"- Bernie Hunter
We at Cerebral Palsy Scotland would love to know what you are doing to mark World CP Day, let us know by going to our social media channels- we are '@CpScotland' on Twitter & '@Cerebralpalsyscotland' on Facebook.
Come on let's raise awareness and turn the world green for Cerebral Palsy on October 6th 2020!  #MakeYourMark #GoGreen4CP