"Dylan's using parts of his brain that others might not use, he's finding other ways."
Dylan's mum Susan shares her family's experience of diagnosis. She compares what she was told about Dylan's future then, with his life as a healthy 6 year old now.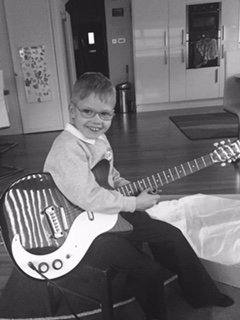 I had a normal pregnancy, but 12 hours after Dylan was born he was rushed down to the neo-natal unit and we were told there had been a large bleed on his brain. Dylan was diagnosed with Hydrocephalus and we spent the following weeks in different hospitals.
The neo-natal team and all the paediatricians were amazing but the initial picture they painted was very black.  Some consultants told us to expect very little from Dylan whilst others said that you can never tell what the future will hold.
When Dylan was six months old the neurologist mentioned cerebral palsy. He said they wouldn't be able to diagnose Dylan officially until he was closer to two in case there were any other underlying conditions, which had to be ruled out.
Now aged six my little boy walks, talks and loves sport and music – he's nothing like the boy everyone expected him to be. He has totally exceeded expectations. He is amazing! There are some things he doesn't get, and physically he still struggles with a lot of things. There was a delay in meeting most of his milestones but the important things is to try not to compare with other children if you can. With CP, the best thing you can do is stay positive while also being realistic.
The thing I really held on to was when a neurosurgeon told us that a child's brain was adaptable. They explained that maybe that part of the brain will be reading or numbers for someone else, but Dylan's brain will find a different pathway. Sometimes you can almost see another connection being made.
I remember coming back from a week's therapy at Cerebral Palsy Scotland. Dylan had been concentrating on improving Gross Motor Skills, yet when we came home his writing just seemed to click into place. He came home and drew his first picture of a person.  The large movements definitely help him to progress, but often in ways that you wouldn't always expect.
It might feel like you are constantly battling to find out things and this can be really hard. A lot of the time there are so many people involved, that perhaps everyone assumes someone else is giving you the information. You find a lot of things out by chance. It's about learning to ask the right questions – and keep asking them. I know many people still shy away from social media but being on Facebook opens lots of doors to support and finding out about activities that are going on around you.
My advice to any parent is to look for local support. As soon as you speak to other parents who are going through similar things as you, particularly at the point of diagnosis, you won't feel so alone.  Look out for activities and events your child can take part in. Even if you think they might not manage – give things a try – they will always surprise you.  It can be difficult because sometimes you just want to be a parent, not a physiotherapist or occupational therapist, but that's just the way it is and the more you get involved with all these things the more you learn and can help your child.
Keep asking questions and remember that it's ok to ask for help from charities and specialist organisations if it's going to be the best thing for your child.