I believe I can fly!
Bobath Scotland trustee, Elaine Boyd, is currently taking part in the Flying Scholarships for Disabled People (FSDP) scheme. In an update on her last blog, Elaine Boyd shares her experience of her first day flying!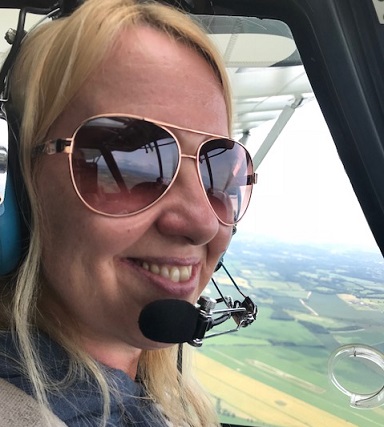 We arrived at Shadow Aviation this morning not knowing what to expect, I was feeling nervous and excited at the same time. I went along with Andy who is also a scholar with Flying Scholarships for Disabled People – we will be following the training programme together.
After meeting the instructors we were introduced to the plane – the African Queen! We went through a process of working out how we could operate the controls with our mobility and reduced strength. This was all sorted very quickly and we were advised that we would be flying this afternoon. I have to say finding a suitable plane for someone with cerebral palsy is easier than car shopping.
Fiona Luckhurst, the instructor and an FSDP Trustee, accompanied me. We flew over Salisbury – the cathedral is spectacular from the air. It felt absolutely amazing – the views, scenery and sense of freedom were incredible. Fiona handed the controls over to me, which was very unexpected – but for those of you who know me well I like to be in control!
We also got to see the crop circle – if you are a Dr Who fan this will mean more to you!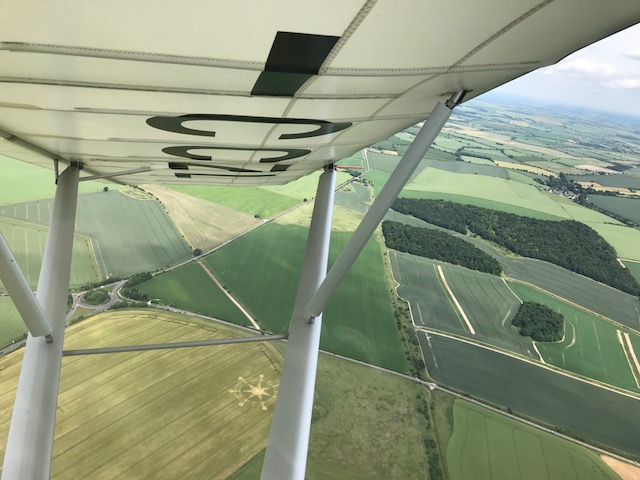 I can't wait to see what tomorrow brings but my verdict on day one is:
"Elaine Boyd flying high
Cerebral palsy won't stop me reaching for the sky!"
And thanks to Jenna, my co pilot and daughter, for helping me make the 400 mile trip to Salisbury yesterday. I couldn't have done it without her.
Please also see the FSDP FaceBook page for updates too.