Cerebral Palsy Scotland volunteer Bernie shines a spotlight on World Cerebral Palsy Day, explaining what it is and how you can get involved.
The time has come around again where the world prepares to celebrate Cerebral Palsy. In my latest blog, I will explain why this day is important, tell you what this year's theme is about and mention how I plan to mark the day.
As many people will already know, World Cerebral Palsy Day happens on the 6th of October, every year. It is a day for raising awareness and getting information out there about the disability in support of the 17 million people who have Cerebral Palsy around the world. There are many different ways to get involved and show that you support World CP Day.
In recent years, we have seen people taking to social media and sharing their CP experience. World CP Day is a brilliant opportunity to get information out to people about what the disability means and more importantly that CP doesn't stop anyone from achieving wonderful things in life.
Millions of Reasons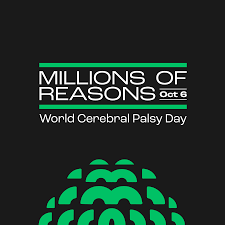 This year's theme from the organisers of World CP Day is called 'Millions Of Reasons' which aims to encourage people to share their own reason for marking World CP Day as well as telling their CP story.
Here are ways that you can share your reason:
Share your reason for marking World CP Day on social media to reach out to your followers. Tag @worldcpday and use the hashtags #MillionsOfReasons and #WorldCerebralPalsyDay. Please tag us too – we are @CpScotland on Twitter, @Cerebralpalsyscotland on Facebook and @cpscotland on Instagram – and we can share your post to our followers!
Put your reason on the map by going to the 'Word Cerebral Palsy Day' website and adding why you are marking the day
Wear something green for the day and if you are asked why by someone, tell them the reason
This is such an important date in the calendar for everyone who either lives with CP or supports someone who has CP; it is a good chance to highlight what support services are available too.
Personally, this annual day is always top of my list – I feel very strongly about World CP Day as I live with the disability. In support of the day, I'm hoping to share my reason by making a video using my speech device while getting the point across that living with CP can be challenging but it doesn't stop me from doing what I set out to do. The video will be posted on my own social media accounts so look out for it on October 6th.
Get involved!
We at Cerebral Palsy Scotland would like to know what everyone is planning on doing to celebrate World CP Day and what your reason is for supporting the day.
Let us know by getting in touch via our social media channels and tagging us in your World CP Day posts – we are @CpScotland on Twitter, @Cerebralpalsyscotland on Facebook and @cpscotland on Instagram.
Bring on World Cerebral Palsy Day on October 6th and share Millions Of Reasons in support of CP!