The lovely Sandra has let us in on the must have toys for girls and boys this Christmas, with her list of the best gifts for both young and older children. With something to suit everyone, she has all of your present woes sorted!
While most OT's love the world of arty crafty glue and paste, this OT much prefers to get stuck into construction toys and loves the challenge of adapting activities so that children can enjoy this type of play regardless of their physical ability/limitations.
For those who are able to use their hands construction play offers numerous opportunity to develop many different skills – grasps, in-hand manipulation, accurate placement, maintaining grasp against resistance to mention just a few…
For the child who cannot use their hands, or who needs assistance to do so, construction play still provides a rich experience for developing play skills for example: selecting what components to use, choosing where items are to be placed, indicating 'GO' to release the marble or crash something down!
Here are my all-time favourites which I am sure people have heard me wax lyrical about on previous occasions!

Marble Run
So SO many different ways of building the ultimate run. There are loads of versions on both the high street and online – to be honest a starter size usually provides ample fun. Just remember to count how many marbles you start with to ensure you have the same number at the end of play!
Duplo
I like using our farm version but there are loads of lovely Duplo sets around and it is worth keeping your eyes peeled for the reductions in the toys section of supermarkets.
Popoids
Sadly these tend to be quite expensive but I am still including it as they are so popular with a wide age-range of children and young people. The economy boxes or tubs tend to retail around £39 but it could be something a number of family members may wish to club together to purchase. I also like the 'essentials' packs of Popoid Bellows that can now be purchased separately. The bellows are a super fun way to encourage finger skills – kids just love the popping noise as they pull the concertina open and then push it shut again. They cost in region of £9.
Car Ramp Racer
I love this toy and buy it for most of my friends children at some point! There are various versions around…Sainsbury has had their Grow & Play Switchback Racer on offer for under £7 recently…
Magnetic Fishing
I wasn't convinced that the magnets would be any use when my physio colleague purchased this recently….but I was wrong. This toy has been a great hit.
Orchard Yard Games
I can't keep up with all the Orchard Yard games. We have a good number here at Bobath but I always tend to return to the same two as I find them easy to play and easy to adapt: Shopping List and Insey Winsey Spider.
Spiderman & Friends (or rather, enemies!)
Calling mums of Super Hero mad kids…TKMax are currently selling these fantastic Marvel Spiderman hard-books for £4.99. The main attraction of this item is that it comes with 12 mini figurines…including Spidey himself and his 11 villainous 'friends'.
Treasure Chest
I find that a treasure chest is a great motivator and/or reward. Kids love the excitement having the chest opened to reveal what surprise items are inside……game components, super heroes, stickers, cosmetic jewellery, raisins….or good old chocolate coins!!
Fib Finder
Older kids – boys and girls – love Fib Finder. The original version we have appears to be discontinued but a website called Games & Party appear to sell a similar item, although I cannot vouch for the site having never used it before.
Books
Spot's Noisy Peek-A-Boo – Sadly they seem to have replaced the lift-the-flap with a press button version – but still looks like fun.
Now for the more sensible part…surely everyone had these presents…you know, the ones that you quickly opened to get out of the way – for me, as a child, it was always the 'soft ones' that nearly always had new gloves, pants or socks!! So on my therapists list of 'boring but useful' presents I would recommend the following:
Exercise Blocks
These are great for using as a surface when little ones are playing on the floor. You can often get them in sports/fit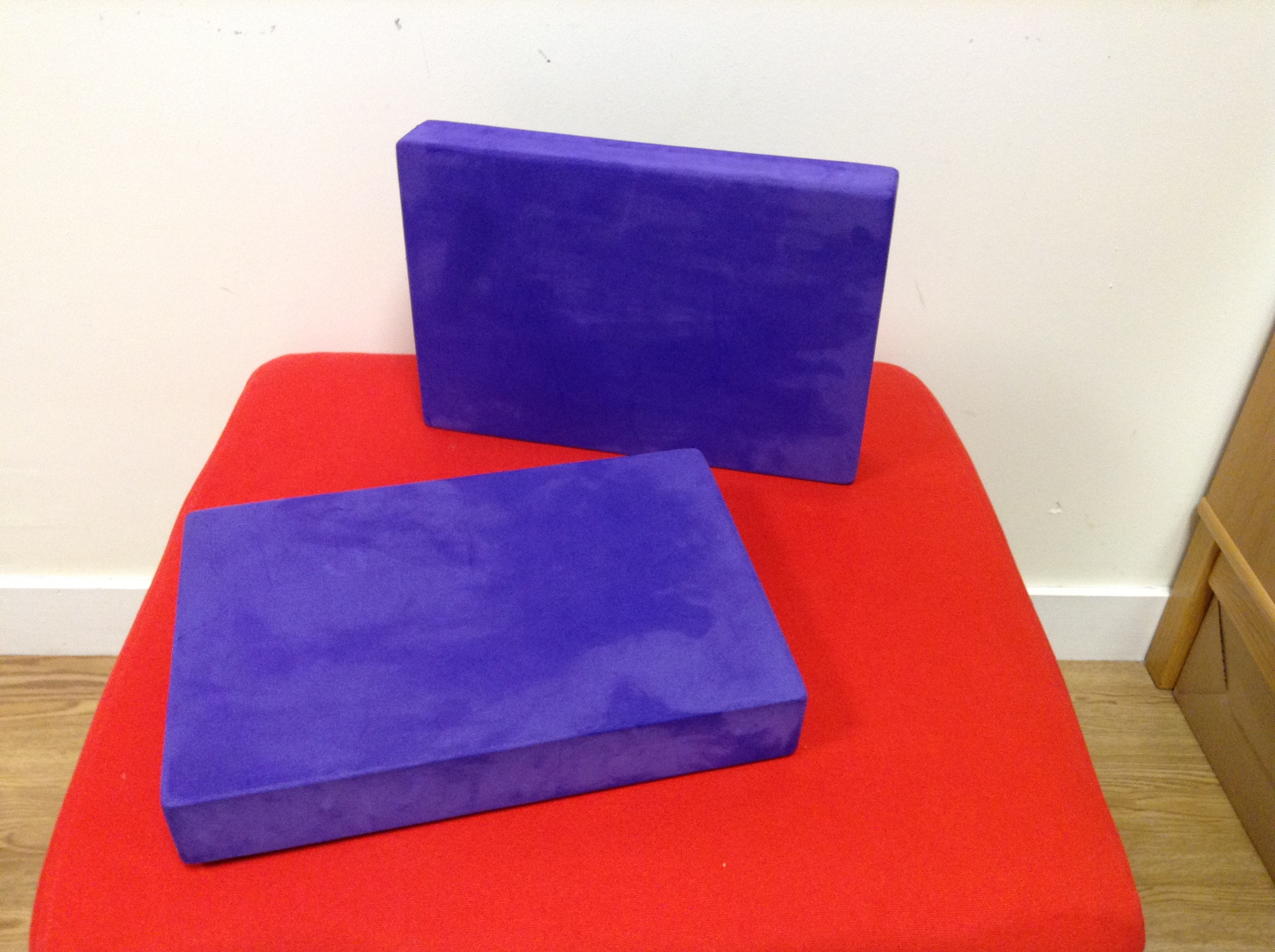 ness shops or from numerous suppliers online – they are usually called yoga or fitness blocks. Prices vary so best to shop around. Be careful not to get the 'brick' version which is half the size.
Non-slip mat
Whether you opt for the original Dycem™ or one of the many variations, a placemat size of non-slip matting can help stabilise toys or yoga blocks etc.