We love to share news about our supporters and the things you're doing to raise funds for people with cerebral palsy and their families.
Click on the link below to read CP Chat – it's a new newsletter that helps us to say "thank you" to all the people who go out of their way to support the charity.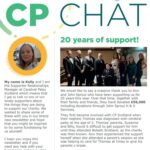 In this edition, we say thanks to Ann and John Sproul, who have been supporting us for over 20 years and have donated a total of £56,000 to the charity, along with their family and friends.
We also thank Marco Orr, who fundraised by holding a 10 hour live DJ set, and to nine year old Jack Ovenden, who completed a 26 mile sponsored cycle with his friends to thank Cerebral Palsy Scotland for helping his younger brother Matthew who has come for therapy sessions here over the years.
There are so many great fundraising stories in this edition of CP Chat, so please have a read!
We hope you enjoy the newsletter and if you need any help with your fundraising or have a story you want to share then please get in touch with Kelly McLaughlin, our Supporter Relationships Manager, who will be happy to help you. You can email Kelly at Kelly.McLaughlin@cpscot.org.uk.
We hope to publish CP Chat every few months to keep you updated on all the latest news from our community of supporters.