In this blog, Barry talks about the skills he has developed to allow him to type and use a computer.
Hi, it is Barry Smith or Baz as I like to be called by my friends. As you all know I have cerebral palsy, but it doesn't stop me from writing on my computer.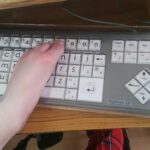 But I don't use my hands. I have a big keyboard with an overlay on top of it. Down to my hands is very jumping which comes off of my CP, I type with my big toe. Then down to me can't work a mouse, I use a jelly skill and work it with my foot.
I started using my big toe do things when I was 6 years old, like working the video. When I was 19 years old I got roll ball I move it with my toe.
In 2013 when I was doing a computing course at my local college, a boy looked in my classroom. One of the staff asked him what he were doing, thinking he was up to no good. He told her, I can't get over him using his toe!
I use my skills to communicate to people what I want in my life. How I feel about having CP – if my hands can't do something and my big toe or foot can, then I use them. My legs might can't walk, but this won't stop me.